Project Details
Architect:
Benoy Ltd / RSP Architects
Client:
Capitaland Ltd & Sun Hung Kai & Co.
Main Contractor:
Penta-Ocean Construction Co. Ltd
Façade System:
Cladding System (Insulation Glass, Perforated Sheet Metal Panels)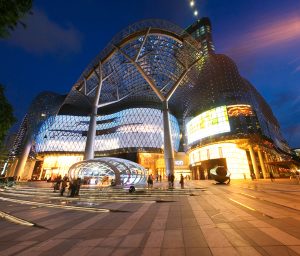 Due to its situation in a top location on Orchard Road, the most prestigious shopping mile in Singapore, and to its unique design, the Orchard Turn project is a landmark of urban development. Covering an area of 125,000 sqm, it will house shops, an art gallery, and a 218 m apartment tower with luxury condominiums sand a leisure centre.
On the last free site on Orchard Road, the Orchard Turn building will be erected on a floor space of 21.700 sqm, totally covering over the bustling subway station Orchard Road and providing underground connections between the surrounding buildings.
Free formed structures like those constructed by MERO-TSK for the project New Milan Fair are the ultimate challenge under technical and logistic aspects. With this new project, MERO-TSK once again proves it outstanding competence in applying the principle of elementized construction to the realization of free form shell structures.
With a surface of approx. 2,600 sqm and an average height of approx. 32 m, the irregular wave shape of the main canopy spans the public space in front of the building. The free form geometry is based on a rhomboid grid, with sides approx. 1.5 m long, with a cladding of alternating fritted and clear safety glass panels.
In addition to the main canopy, MERO-TSK is responsible for the circumferential free form facades (SKIN, approx. 12,600 sqm) which are wrapped around the building in undulating curves. To enhance the visual impression of a varied geometry, the cladding elements of the facade, made of insulating glass and perforated aluminium panels, are arranged in an irregular pattern.
These facades frame a biaxially curved facade structure with triangular glass panels (SEED, approx. 3,800 sqm). The main canopy and the facades are constructed as galvanized, colour-coated single layer MERO-Plus systems. LED light sources on all node points of the facade and LED monitors provide further striking aesthetical effects by day and night.
Ion-32 1 Ion-16 1Spiegelverkehrt Ion-38 1 The facades along the retail areas and shops are constructed as all-glass structures with glass fins and point support devices. Finally, the horizontal, hemiovoidal dome structure above the entrance to the subway station (MRT station), with biaxially curved glass panels, is also part of MERO's scope of work. On the basis of demonstrable expertise in the field of free formed roofs and facades, as exemplified in the project New Milan Fair, the trust of the client, the general contractor and the architects was won and the contract was awarded to MERO Asia Pacific Pte Ltd.